East Izu gourmet banquet
Japanese food emphasizes the freshness of the ingredients, but no more than the fresh from the local come again.
Get rid of immutable, Western elements of the integration into the food, and Japanese food to achieve the perfect balance.
Subtle changes in taste and insistence on ingredients, as far as possible to bring guests Izu four sentiment feast.
Dinner dishes
Enjoy the delicious Japanese four seasons and bring you a unique feast.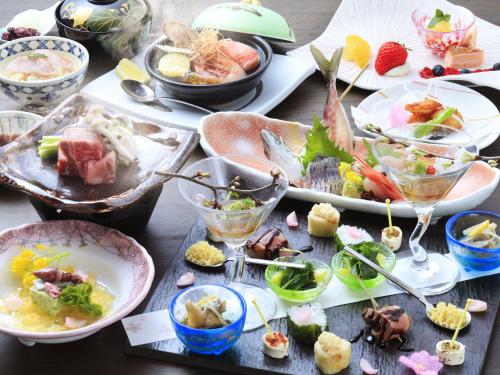 Izu flavor platter
Tiancheng tofu
The mustard wolfberry soup
Izu bean salad with pickled basil
Shrimp rolls with white wine cream sauce
Chicken liver wind
Honey roasted duck
Gusmi
Stew tomorrow leaves
High leaf sushi
soup
Koyoi special fish soup
Izu goldfish
East Izu fresh catch
Shrimp scallop nodding
Sashimi
Sagami Bay seasonal fish three fight
main course
Pottery roasted and cow
Seasonal vegetables 撘 pepper orange vinegar
side dish
Sakura flowers rape flower mousse
Lily flower root cuttlefish Squid
Meals
Gold sea bream pot rice
Pickled
Red taste by soup
dessert
Shizuoka cheese cheese orange sauce
Vanilla shortbread
Season fruits
Breakfast dishes
The use of unmanaged Ichinomichi stew out of long proud gold soup,
Bring the traveler a day of energy.
Special long gold-plated soup
East Izu side dishes confluence
Salted squid
Japanese jelly
Tuna fish Ding
Mushrooms mushrooms
Cold Sargasso dish
Raw lettuce with potato salad ham mini tomatoes
Stewed radish zucchini sauce by the sauce
Japanese egg roll
Local and wind stew
Burning things
Dried horse mackerel
Ito fish cake
Meals
Fresh bonito tea bubble rice
※ The contents of the dishes will be changed according to the season.
Meal
Semi-open dining room allows you to fully enjoy the privacy and pleasure of dining.
Let the body and mind to relax slowly, hard to understand the East Izu cuisine.
dining time
Breakfast: 8 o'clock ~
Dinner: 18 o'clock ~
10 Zhuo X4 name Zhuo X6 name
About food allergies
If you are allergic to any food, please contact us 3 days before check-in.
We will replace your meal.
After changing the meal there may be additional costs incurred.
Can be changed for your meal
Crustaceans (shrimp, crabs) and eggs
※ If you have any allergic food in the processed food, you will not be able to change it for you
Unable to replace your meal
Buckwheat, peanuts, wheat, dairy products and others
※ Kitchen conditioning equipment and washing machines if allergic residual ingredients also forgive me